Podcast: Play in new window | Download | Embed
 And she gave birth to her firstborn son and wrapped him in bands of cloth, and laid him in a manger, because there was no place for them in the inn. Luke 2:7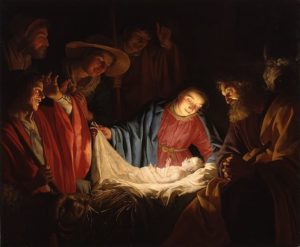 Dear Friends,
This mini-episode is a tiny gift to you from Contemplative at Home, just a brief ten-minute prayer for Christmas Eve or Christmas Day. It was made quickly and spontaneously so please accept it in the spirit that it is given: with joy and gratitude (if not meticulous editing skills)!
May the joy of the angels,
the eagerness of the shepherds,
the perseverance of the wise men,
the obedience of Joseph and Mary,
and the peace of the Christ child
be yours this Christmas
Amen.
Thank you for praying here in 2016, may your journey continue to deepen and broaden you in 2017. I look forward to praying with you then.
Every blessing.
Image: By Gerard van Honthorst – Google Art Project, Public Domain, https://commons.wikimedia.org/w/index.php?curid=45542035
Blessing: churchofengland.org