Podcast: Play in new window | Download | Embed
"My soul magnifies the Lord and my spirit rejoices in God my Savior, for he has looked with favor on the lowliness of his servant." Luke 1:48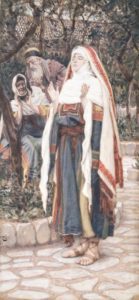 In this episode we continue our reflection on the profound blessing of saying yes to God, saying yes to the ways in which we are being called out of pride and fear and into redemption and creativity and wholeness and freedom and life.
Mary reminds us that this incredible journey only ever begins in humility.
Every blessing, friends!
Art: James Tissot , The Magnificat
For another lovely piece of contemporary art to assist your reflection visit this page.