Podcast: Play in new window | Download | Embed
"Jesus was at Bethany, in the house of Simon the leper, sitting at the table, and a woman came with an alabaster jar of very costly ointment of nard, and she broke open the jar and poured the ointment on his head."
Meditating on Mark 14:3-9, we are present with Jesus as he prepares for his death. A meal for guests, a lavish and controversial act of reverence, Jesus mentally preparing for the coming events. Find your favourite spot for prayer, grab your journal, and sit deeply with the yourself and the Lord for 20 minutes. May it be a blessing to you.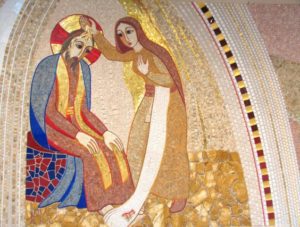 Friends- I have recently launched a new Facebook group for the community of Contemplative at Home listeners around the world, and I'd love to have you join the conversation there. It will be a place where we can share with others about our experience with prayer, and glean further insight into the text and all it has to teach us.
You may notice new music this week, brought to us by my dear brother. We are having fun playing with this together, so you may hear a few new things in the coming weeks.
Are you listening to the prayer in a group? Click here for suggestions on how to share the prayer together.
Contemplative at Home offers a guided prayer experience drawing on Ignatian spirituality.
Mark 14:3-9 is read from the NRSV and The Message.
This was first published at Contemplative at Home.